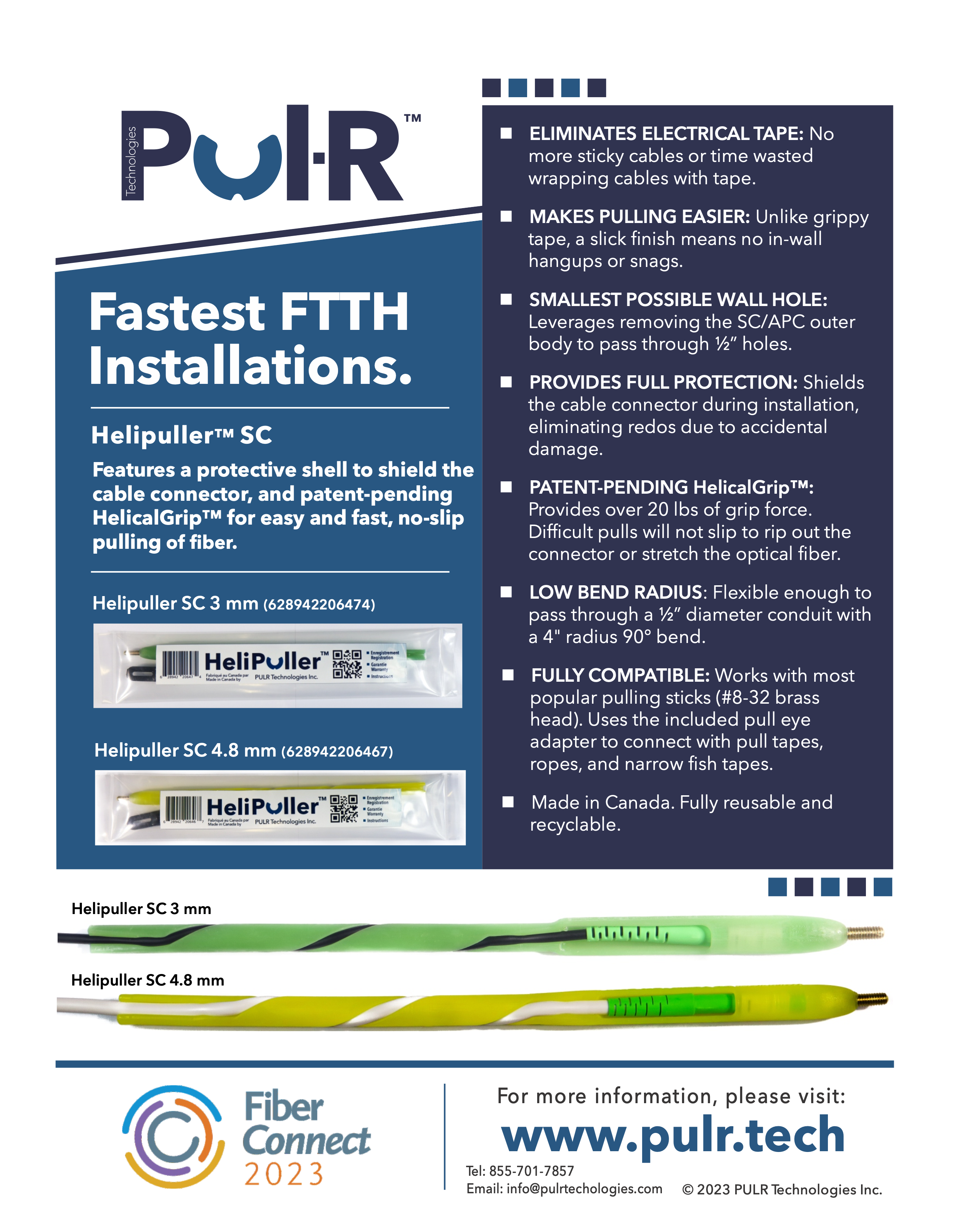 Helipuller SC 4.8mm
---
Pre-terminated optical fiber installs for PON or POL Easy and Fast! 
This is the most famous product from PULR Technologies Inc. It is praised by installers for saving them time and allowing them to do challenging pulls. Ruggedized, reusable and low cost, it'll pay for itself right on the first job and be re-usable for every job thereafter.  Designed for FTTH 4.8 mm diameter single fiber optic, bend insensitive and self-bend limiting cables that are pre-terminated with an SC connector.
Benefits:

It takes seconds to whirl a cable in and out of a Helipuller™, saving time and making use of the tool predictable across the entire workforce;

A fully recessed cable doesn't rub on the inside of the hole or conduit and makes for a super slick pull;

No electrical tape employed means no tape getting caught, a slick pull, no tape to trash, no time wasted in installing and removing the tape nor cleaning up the sticky glue left overs;

Over twenty pounds of grip force thanks to the HelicalGrip™. Difficult pulls will not slip to rip out the connector nor stretch the optical fiber 

Protects the SC connector from damages and dirt thanks to the cavity built into the Helipuller™;

Makes it possible to pull SC in well under a half-inch diameter hole or conduit, taking advantage to place the outer body back on after the pull. Holes that are visually pleasing are easier to sell. Many vendors ship their FTTH patch cables with the outer body already pre-removed on one end;

The brass #8-32 threaded male end, provides versatility and rugged operation, allowing hundreds of mating cycles against a standard US size pulling stick or glow rod.  Variants with M4, M5 and 1/4 threads are also available upon special request;

Every Helipuller™ FTTH also comes with a screw on PULR™ Pull Tape Adapter, which is designed to also work with pull rope or a metal fish.

It is also available in a

3 mm variant

.
The Helipuller™ FTTH 4.8 mm threaded male end can also be attached to Magnepull head allowing to pull down a cable to a wall outlet even if there is insulation inside the wall.